Don't wait one more day, call 972-378-0291 today!  
What Makes us Different from the typical Day Spa, Derm Office and Plastic Surgeon Palace, besides being affordable?  We use LED for Acne, Acne Scarring, Thinning Hair & Balding, Wrinkles, Age Spots and Large Pores.  Fastest Non-Surgical Face Lift to date, Microcurrent for that immediate need to impress.  Lymphatic Enhancement Therapy for sluggish metabolisms, puffy eyes, face and body.  SoQi (sokey) Massage for the ultimate power nap, pain relief and relaxation.  Body Wraps that tighten, tone, firm and shrink tough areas, no this is not just water loss.  Foot Spas, pH balance, micro-clustered water for ultimate hydration and cleansing.  Essential Oils and so much more. Schedule a Free Skin consultation and you'll see why we're not ordinary.  LED Skin Care Plano is "Light years" ahead of the rest with our "Progressive, NOT Aggressive approach towards healthy, hydrated, rejuvenated skin.
Never experienced the "LED Glow" Facial?  Then click here to Like and Share our Facebook Page with family and friends to be entered into our quarterly drawing for a Free LED Glow Facial and LED treatment  – $310 value.  This facial is custom blended for your "skin type" and includes a chemical peel, extractions with an LED treatment  Be sure to type in "LED Glow" facial when you Like and Share our Facebook page, so we can add your name to our drawing.  Winner announced the following month of each quarter. 
We CARE 
Comprehensive assessments to help personalize your treatments to suit your needs and provide the best results from the inside out.
Advanced treatments that avoid the use of harsh chemicals or aggressive solutions for acne, hair loss, anti-aging, weight loss and detoxification.
Relaxing and serene environment, ensuring a peaceful yet rejuvenating experience to refresh, renew and regenerate a better you.
Expert staff who are genuinely invested in your well-being and satisfaction, whether it be a single spa visit or ongoing treatments.
Fast, life changing skin solutions only happen at LED Skin Care Plano serving Frisco, Carrollton, and the metroplex  when you follow our protocol to a tee!  No hype, fluff or fad offerings from the LED Skin Care Plano.  Real Results, FAST from the INSIDE OUT.  LED Skin Care will be like nothing you've ever experienced before, and that's a fact.
Imagine…a solution that offers
QUICK and IMMEDIATE RELIEF from
active, painful, red, irritating, and inflamed
ACNE
.  LED Skin Care Plano Frisco Carrollton has done it's research on Blue, Red and IR LED Light treatments.  Over 1500 LED lights are no match for hand helds, panels or masks.  When you want real results from the inside out, you need power and lights.  What takes others 2.5 hours to accomplish, we accomplish in 20 fast, relaxing minutes.
Our protocol has been practiced since 2007.  We have done the research, and put in the time to offer our Clients the best, non-ablative, no downtime solutions on the market today.  We don't follow fads or gimmicks, we only offer SCIENCE BASED affordable solutions.
So if you've been everywhere, done everything BUT surgery and are looking for changes, positive changes, to your skin from within, hair, and body you've found the right place.
Call us today and get started onto your road of transformation.  We know you'll be pleasantly surprised.  Remember, Everyday is a Gift
Learning your
SKIN TYPE
is key for your skins regeneration.   What kind of skin were you born with?  It's not about,  you are a certain age, or fighting the symptoms you see on your face.  Those are "symptomatic" QUICK FIX solutions that typically don't work.  Right?  You've been there, done that and have a ton of products and pills on your counter to prove it.
There are many factors that go into healthy skin.  Learning this takes time.  You won't learn this in an over the counter experience, a catalog or a one time office visit and a prescription.
LED Skin Care Plano has helped so many here in the metroplex.   So much so that many of our Clients travel far and wide (South Lake, Highland Park,Tyler, and Celina, Tx  to name a few) for our treatments.  You won't find what we do anywhere else, this is why many of our Clients travel so far.
So if you are serious about results and are tired of the fluff, hype and fads on the market today; and you are looking for real results, willing to learn about your skin and change what you've been told and sold you're at the right place.  Call us now for your FREE Skin Care consultation.  972-378-0291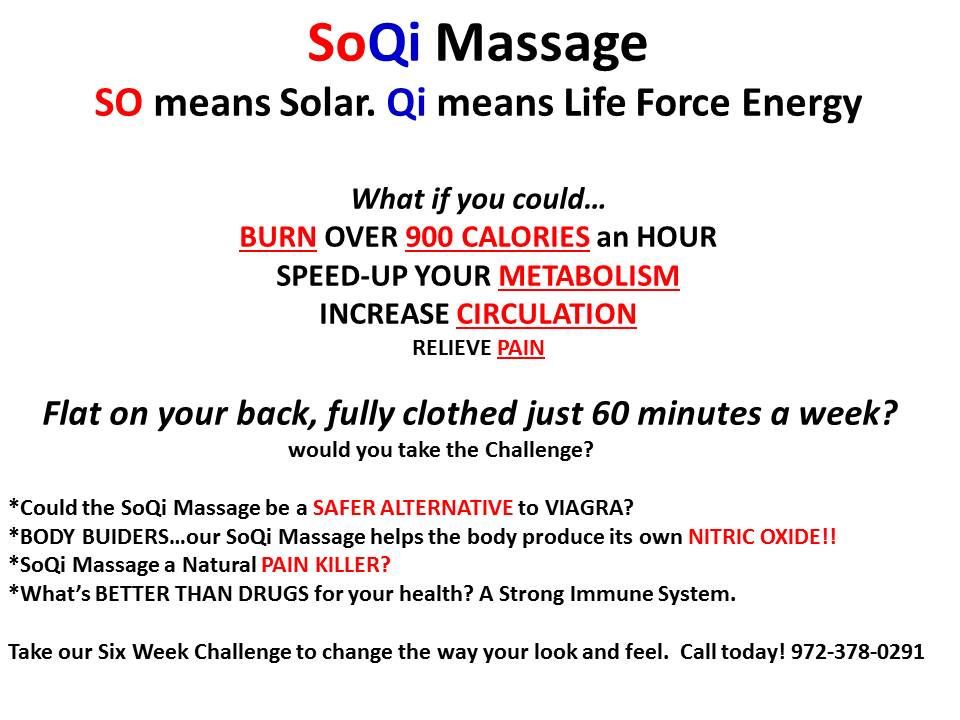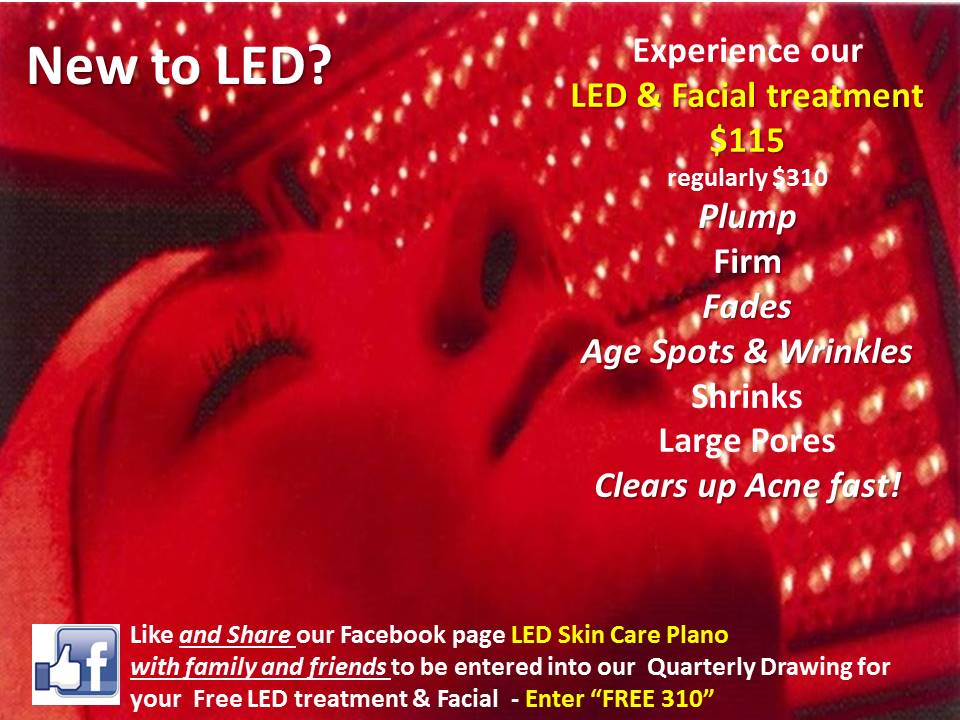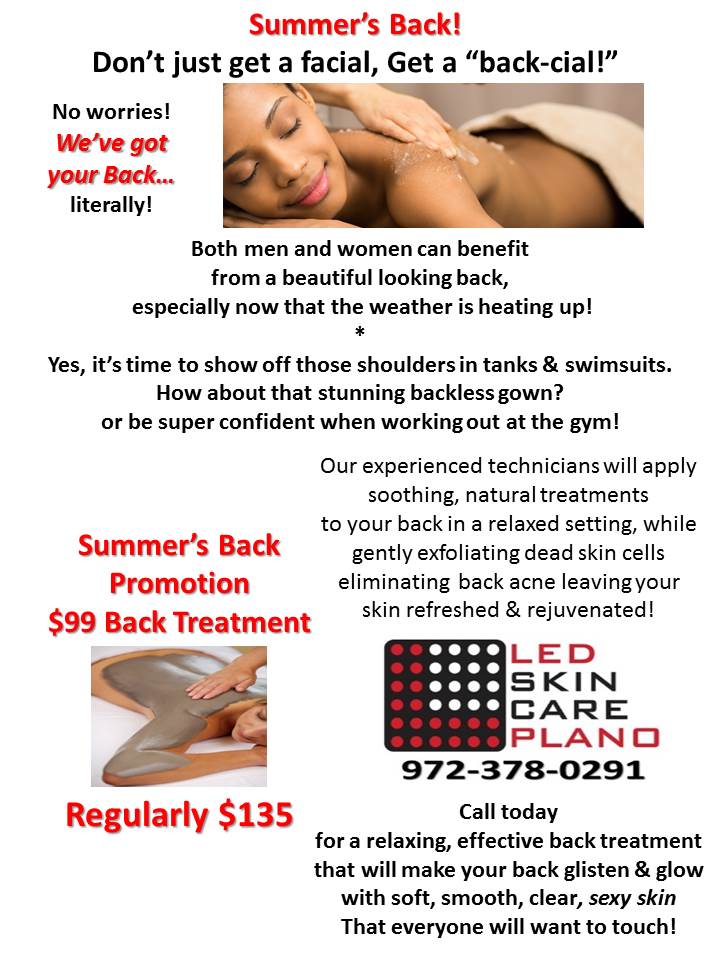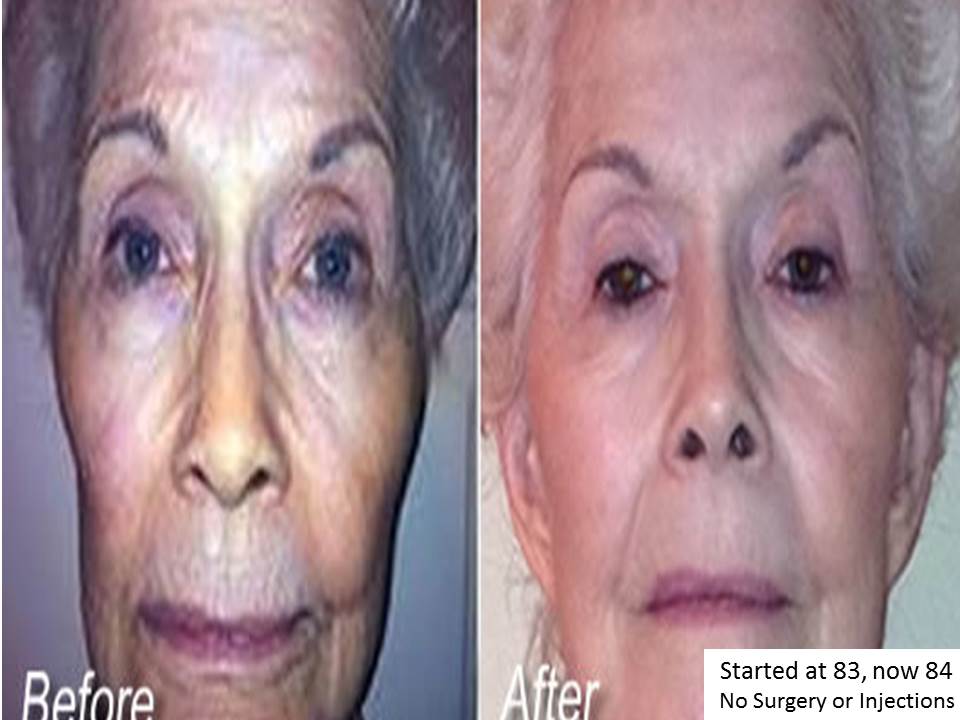 Nov 27, 2015
3:00PM - 4:00PM
One stop shop for all your gift giving. 12 Gift Certificates/Coupons for you or friends & family
Black Friday EASY shopping event at LED Skin Care!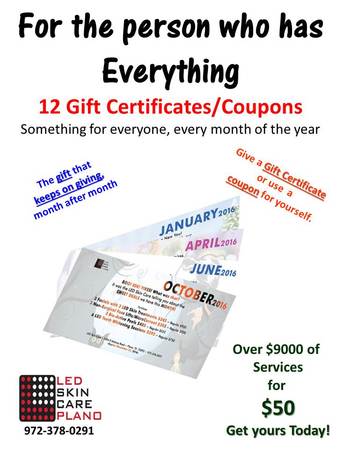 This is the best gift ever! For you, friends, Moms & Dads there is something for everyone. Over $9000 in services for $50 gets you deeply discounted services each month at LED Skin Care.
Body Wraps, Relaxing SoQi Massages~ the ultimate Power Nap, facials, and more! Make your shopping easy with our Gift Certificate/Coupon Book. Snap! you done shopping for the year!